Worker's Compensation Injuries
According to the Bureau of Labor Statistics, there are over 12 million work-related injuries every year, accounting for 20% of all injuries sustained in the US.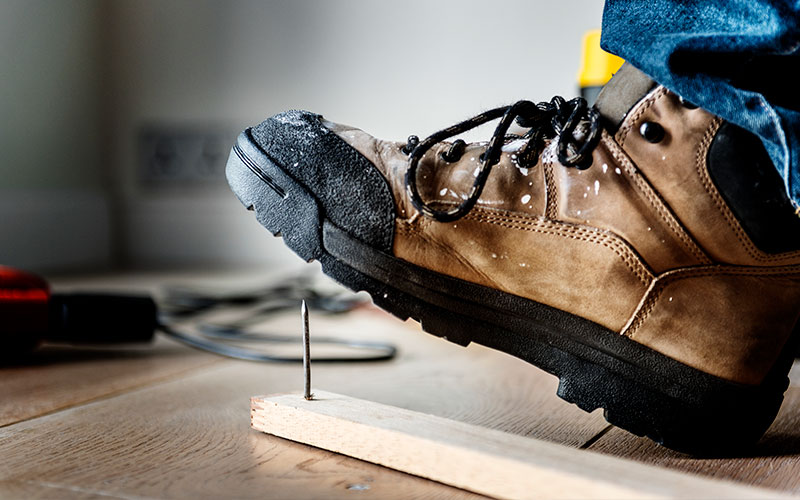 Foot and ankle injuries are the most common and make-up 10% of all injuries. Sprains and strains account for 42% of work-related foot and ankle injuries, followed by contusions, lacerations, and fractures.
REQUEST AN APPOINTMENT
What is a workplace injury?
Most injuries that occur while at work are covered by workers' compensation insurance. This includes illnesses and accidents caused by your workplace, work activities, as well as the materials and equipment you use.
Many workers choose to ignore an injury, deciding to keep working rather than risking their livelihood. But a foot or ankle injury may be more serious than you think, limiting your ability to move comfortably and perform your job effectively. In some cases, these injuries can lead to permanent disability.
What at the most common causes of a foot or ankle injury?
Causes include single, isolated incidents, as well as injuries that arise from overuse. The most common are:
Slip and fall accidents (these are the most frequently occurring accidents)
Overexertion
Falling from a height
Heavy machinery
Walking or standing for extended periods
Repetitive movements
Which professions are most at risk of foot and ankle injuries?
Because slip and fall injuries at the most common cause of injuries in workplaces, any worker can be injured while at work, but professions that are most at risk are:
Nurses
Auto mechanics
Workers in manufacturing industries such as laborers, carpenters, and roofers
Workers in retail such as cashiers and waiters
Which pWhat are common work-related foot and ankle injuries?
The most frequently reported injuries are:
Bone fractures, because the foot, ankle, and toes are made up of small bones, there is a high risk of fracturing these delicate bones.
Sprains and strains, sudden twists, turns, or falls can result in an ankle sprain or strain and may require specialist treatment.
Tendonitis, inflammation of tendons in the feet due to overuse can make performing daily work painful.
When should you see a doctor?
In general, work-related injuries are covered under worker's compensation benefits. If you have a bone fracture, an ankle sprain or strain, cartilage injuries or repetitive strain injuries, you should immediately seek expert advice and treatment to resolve the issue as quickly as possible, as well as to prevent long-term damage.
At Northwest Surgical Specialists, we have years of experience in treating a wide variety of injuries and conditions related to workplace accidents as well as repetitive strain injuries.
Work-related injuries cost millions of dollars and account for thousands of hours of lost time every year in the US. At Northwest Surgical Specialists, we aim to be part of the solution, helping to limit workplace injuries and assist workers with returning to full health, and full productively quickly and affordably. To get in touch, please give us a call on 847-885-9525 or request an appointment through the website.
REQUEST AN APPOINTMENT