Diabetic Foot Care. Shoes.
There are close to 18 million people in the US living with diabetes who are at risk of complications from the disease.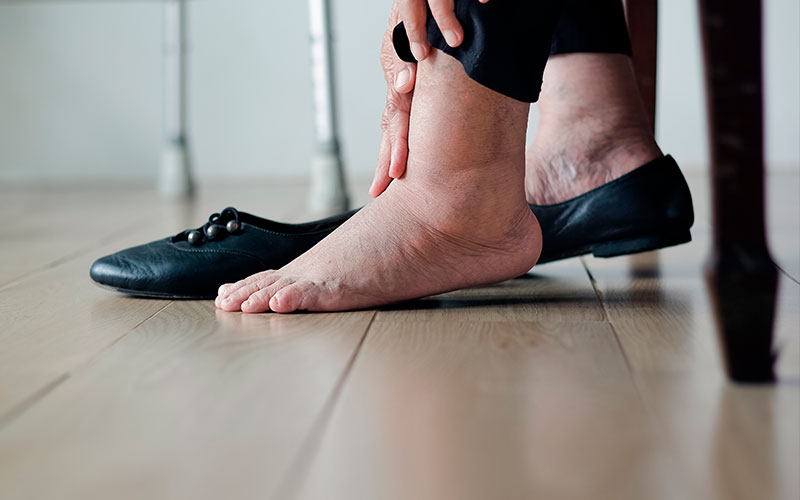 Good sugar control is essential for reducing the risks as diabetes, if not kept in check, can cause nerve damage that reduces sensation in the feet, most importantly, the foot's sensitivity to pain. In addition, diabetes can also lead to poor circulation, which reduces the flow of blood to the feet and means that wounds take longer to heal.
Foot deformities also post a significant risk as hammertoes or bunions can create pressure points that form ulcers, but any foot injury has the potential to lead to significant issues.
REQUEST AN APPOINTMENT
Why are Good-Fitting Shoes Important?
If you have diabetes and have developed a minor foot deformity or have decreased sensation or circulation, it can be a good preventative move to switch from regular shoes to diabetic shoes. If you have ulcerations or severely compromised foot circulation or sensation, therapeutic shoes and protective footwear may be necessary.
Tips for Buying Shoes for Diabetics
To enhance the health of those living with diabetes, these are the top tips:
Measure your feet to check whether their size has changed before buying new shoes
Buy soft, supple leather shoes
Choose laced shoes rather than loafers for a better fit and more support
Look for a cushioned sole for shock absorption
Go shopping later in the day as your foot swells throughout the day
When you try shoes, take the socks that you would normally wear with you to try on
Make sure there's half an inch between your longest toe and the tip of the shoe
Wear new shoes for one to two hours stretches in the beginning, then take them off and check for any cuts or blisters
Shoes should be replaced if the heel begins to collapse or is worn down, or if the inner lining of the shoe is torn.
If you have diabetes, it is important to have regular check-ups with a foot specialist to minimize the risk of diabetes complications. At Northwest Surgical Specialists, we have many years of experience in treating diabetic foot conditions and helping those with diabetes make good footwear choices as a preventative measure. To get in touch, please give us a call on 847-885-9525 or request an appointment through the website.
REQUEST AN APPOINTMENT